As the world focuses it's attention on France for the 100th edition of the Tour de France for the next three weeks, some people are bound to question whether a cyclist's performance is due to his hard work and skill or to more dubious means.
In the world of art and design people sometimes pose similar questions claiming that drawing on a computer is cheating and isn't REAL art.
This year I started using Adobe Illustrator to create and edit designs on my computer. I can honestly say it has transformed the way I work.  As I started climbing a very steep learning curve (no pun intended) getting to grips with the strange new world of path tools and clipping masks; Neil Wyatt (otherwise known as The Handmade Cyclist) offered me a helping hand.
Neil has created a range of stunning work celebrating the stories and scenery of the cycling world, which you can see scattered throughout this post.
He's very kindly agreed to answer some questions about how he uses uses Illustrator in his work.
So if you've ever wondered what you can achieve with Photoshop (other than making models look perfect) or still think that using a computer to create art is cheating read on to find out more…
Does Illustrator really feature significantly in your creative process?
It's really central to it. It's just a really fast way of working through ideas. I'll often use pen and paper to quickly sketch out compositions and then use basic shapes in Illustrator to get a feel for how they will work. You can change shapes, reposition, work through colour schemes, and generally play around until you are happy the image will work. My Flanders poster is a good example – I must have come up with 15 different layouts of the shapes making the landscape before I was happy. Then it's down to adding the details.
Once the design is complete in Illustrator I will then paste it in layers into Photoshop to add textures and depth – this is vital to give the image that something extra. Vector shapes created in Illustrator can sometimes feel a little flat, so the final steps are important.
 Some people feel that using a computer is cheating – do you agree?
No, not at all, its really a case of horses for courses. I love hand-drawn art, collage, paper cut – but I know I wouldn't be able to get the precision I want using those techniques. When I was learning to draw I really loved technical drawing – in the days of using pencil, protractor etc – and I really loved creating precise exploded diagrams and the like. So I've always been drawn to creating sharp, graphic images. Using the computer helps me achieve the finish I want – that's why I use them. Maybe in the future I'll experiment a little with other media, but for me it's about getting the right end result.
 What are the advantages and disadvantages of creating designs digitally?
The advantages are the speed and flexibility. You can change composition, colour really quickly. You can experiment. Sometimes things happen by accident and you really like the result. You have complete control when you need it.
The disadvantages are just like any art – sometimes it's still hard to get the vision in your head onto the screen or paper in the right way. Sometimes I can still sketch an idea on paper better than I can get it to look on screen. It's frustrating when that's the case. You learn how to do things better every day – I've not even scratched the surface of what's possible yet.
 A lot of people would say that craft implies handmade. In my own experience as a designer I would claim that craft refers to an understanding of processes and materials and how to use them skillfully, and so using a program like Illustrator to create designs is also using craft. Would you agree?
Yes, for me Illustrator or Photoshop are just another tool to make things look better. I could do all my posters in pen and ink but would people like them as much? I'm not so sure. I do take great effort to make sure the whole process is done with love – I took time to find a great printer, who cares as much about my work as I do and produces beautiful prints. I might not hack the finished products out of a lump of tree with my bare hands, but the process is done with love, attention and craft.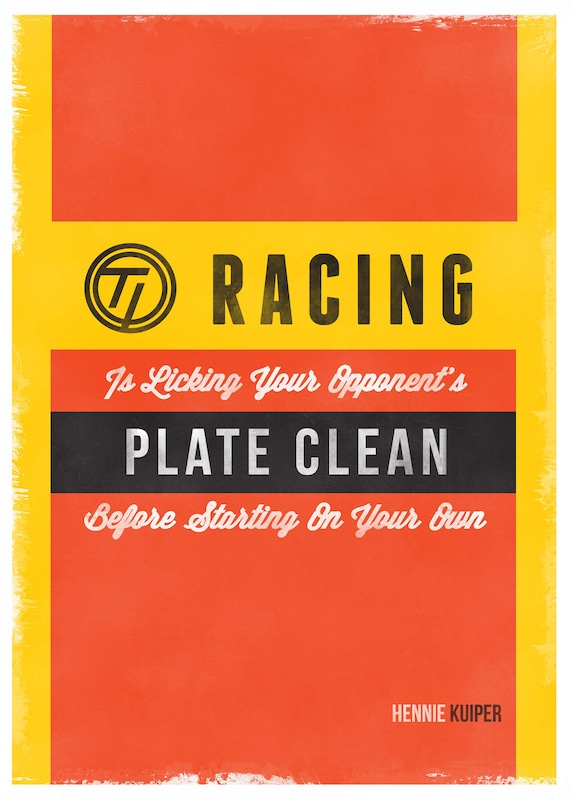 Cycling Art Print – Tour de France Cyclist – Kuiper: Cycling Quotes 4 Image: The Handmade Cyclist
Just as the shape of a piece of wood might dictate the design a woodcarver can create, does creating art digitally dictate the outcome of your work?
If anything I would say that using digital techniques makes the outcome more open. The possibilities are endless. And developments like 3D printing will really open things up – imagine the possibilities!
Sometimes the open possibilities can be a bit daunting – having some restrictions and discipline can really help the creative process. With digital art it's tempting sometimes to chase perfection, and that can be quite a negative thing to do – you'll never achieve it and rough edges give character.
I want to do more screen printed posters, there's a purity there in the restrictiveness of the process, and some of my favourite artists like Army of Cats use screen-printing exclusively. But a lot of my prints are better suited to Giclee printing due to the textures and number of colours used – so again its horses for courses. Digital doesn't mean bad – it's just a means to an end.
If you missed our in depth interview with Neil you can read it here  and if you want to find out more or purchase a beautiful print here's how: